Die "Shimmy Shake Berlin Burlesque School" bietet eine breite Auswahl aufregender Workshops. Jeder Workshop hat den Schwerpunkt auf einem anderen Stil, oder einer anderen Fertigkeit, um alle Facetten der burlesque Kunst abzudecken.
Ob du Interesse hast an klassischem Bump und Grind, Kostümierung, Neo Burlesque, Charakterentwicklung, Bewegungstechniken, Striptease oder Styling, mit unserem wechselnden Team und Gastlehrer ist für alle etwas dabei!
Unsere Team bietet auch Privatunterricht für alle, die bereits bestehende Fertigkeiten verfeinern wollen, oder die eine privaten Umgebung für die ersten Schritte bevorzugen.
Bei Rückfragen schickt eine Mail an shimmyshakeberlin@gmail.com 
*Unsere Kurse sind für alle Fitness-Levels und Erfahrungen geeignet.

Shimmy Shake Special Workshops


ONLINE WORKSHOPS
We have a special sexy treat to romance you with this Valentines Day!
Being at home in Lockdown (many alone) we're offering these special workshops to help you reconnect with yourselves and your hotness on this day of love!
Whether alone or partnered these workshops are aimed to help you spice things up!
There is a discount for both workshops with a 15 minute break in between and they compliment each other well!
But can also be taking separately.
DOUBLE DEAL! Take both workshops for 40€
Dress ups encouraged! We will make a Zoom video of the routines and share with you afterwards. This is optional of course!
We look forward to having another online lockdown shimmy with you!
Samstag 13. Februar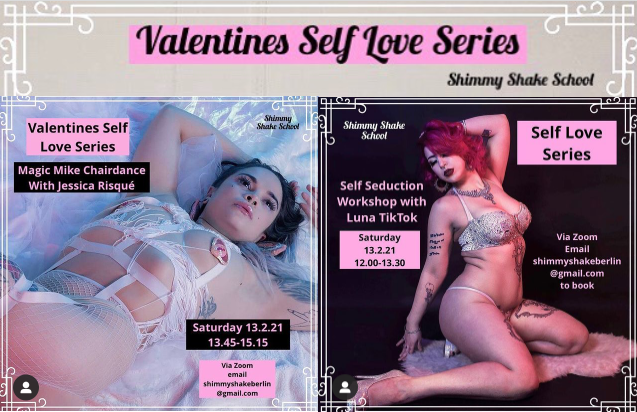 **SELF SEDUCTION with Luna TikTok**
 Feeling out of Sync rather than feelin' yourself?  Join Luna for a slow burning dance session to rekindle / unleash that feisty flirty fire within! Let's explore reconnecting with our bodies through touch, movement and beyond  on this beautiful road towards Self Love and Confidence!
Low Impact Movement for all Levels
Suitable for all Genders.
What to Bring: Yoga Mat/Towel – Water Bottle – Mirror (the bigger the better)
For those with mobility issues I would advise using a comfy chair.
What to Wear:  Your Favourite Fitted Sexy Wear! Lingerie, undies, Onesies, Leggings, Sportswear etc  are all welcome. The less baggy the better!
Time: 12.00-13.30
Price: 25€
Language: English
Level: Open
Email shimmyshakeberlin@gmail.com to book in now!
** MAGIC MIKE THE FUK BOI Workshop with Jessica Risqué**
Ever wondered where all these fuk boi's get the confidence to grind the floor and never call you back?! Now its your turn to take back this energy and show them how the crotch dive is really done! Pull these moves out on your next post covid prey and you will have anyone gagging for more.
Don your best Masc Str$pper outfit (think tank tops and slicked back hair, joggers and caps, drawn on 6 pack if you are feeling), Knee Pads, Socks!! THE STURDIEST CHAIR.
We will learn the baby maker, floor humps, knee spins, grinds, & then we will put into a full chair dance routine to turn you into the biggest Fuk Boi even just for five mins.
Time: 13.45-15.15
Price: 25€
Language: English
Level: Open
Email shimmyshakeberlin@gmail.com to book in now!
************************************
*Mehr Workshops bald Online!
**begrenzte Plätze**
Anmeldung oder Rückfragen bitte per Mail an shimmyshakeberlin@gmail.com schreiben.
_________________________________
~Double Deal~
~SINGLE WORKSHOP~
______________________________________________________________________
Location: Imago Tanzstudio
Address: Straßmannstraße 18, 10249 Berlin-Friedrichshain
Anmeldung oder Rückfragen bitte per Mail an shimmyshakeberlin@gmail.com schreiben.