The Shimmy Shake Berlin Burlesque School hosts a wide variety of exciting burlesque workshops. Each class is focused on a different style or skill, to cover all facets of burlesque performance. After each term students have the opportunity to perform the choreography they learned at our graduation event, the Shimmy Shake Show. Whether you are interested in classic Bump and Grind, Costuming, Neo, Characterization, Movement, Striptease or Styling, with our ever-changing roster and exciting list of guest teachers we have something for everyone. The teachers of the school are also able to offer special private classes for those wanting to hone existing skills or that prefer to start learning in a private environment.
Mail shimmyshakeberlin@gmail.com for any additional information.

Shimmy Shake Special Workshops
WINTER  2020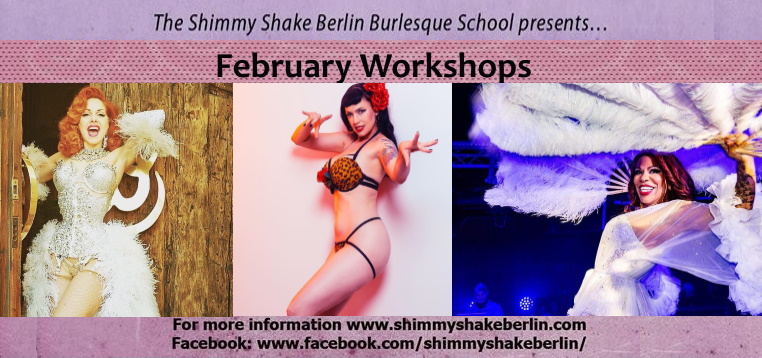 This February we are offering another Beginner Tease with La Viola Vixen, and specialty workshops taught by two incredible star guest teachers!
The one and only sparkle queen Banbury Cross will be doing Crystals & Costuming and Missa Blue is teaching us all about her special techniques for Stage Presence!
We also have regular term 1 classes on offer! https://www.facebook.com/events/471547486840537/
*8th February*
~ 12.00 -13.30 Beginner Burlesque Tease w/ La Viola Vixen
~ 13.45 – 15.45 Costumes and Crystals w/ Banbury Cross
*15th February*
~ 13.45 – 15.45 Stage Presence: The MisSa Blue Factor" w/ Missa Blue
___________________________________________________
~TEASER~
Beginner Burlesque Tease w/ La Viola Vixen
Learn the basics of tease in our 90 minute beginner workshop!
You will learn the tips for perfect pinup posing, classic burlesque dance moves, character basics, warm-up exercises and have a short burlesque history & costume discussion to get you started!
Date: 8.2.20
Time: 12.00 -13.30
Price: 45€ class
Regular students or "Bring a Friend" and pay 30€ for each student!
Level: Open
Language: English & German
Bring: Water, Dance heels if you have them, and clothing which are comfortable to dance in. Work out wear for example.
~SPECIALTY WORKSHOPS~
*Costumes and Crystals with Banbury Cross
Learn how to take your costume bedazzling to the next level! Banbury Cross is known for her showstopping costumes and being an international queen of sparkle on the worlds biggest burlesque stages.
In this workshop she will demonstrate how to elevate your crystalling and customising by showing you how to apply appliques, hot fix, mix stone types and sizes, glue and sew stones to costume pieces. We will discuss methods and which glues to use, how to use them safely, etc.
You can bring along a costume piece and any gems you have to discuss sparkle possibilities.
We will have the chance to see a demonstration and work on a small piece of your own from home.
Date: 8.2.20
Time: 13.45 – 15.45
Price: 55€
Language: German/English
Level: Open
Bring: Costume piece to bedazzle or be advised on. Any crystals, appliques etc that you have and would like to use.
We will have small items such as gloves for purchase along with small mixed crystal packs. Please advise in advance if you are interested in this.
Pen, Paper & Water
*Stage Presence: The MisSa Blue Factor with Missa Blue
Are you ready to refine your stage presence? Deliver unique & memorable work? Be unapologetically yourself on stage?
This master class is for you!
Missa Blue shares her inspirations and techniques for becoming a badass on stage. Your music, costuming or props should all enhance your character and how to create magic on stage while keeping it real. It can be difficult to recapture the spark after many rehearsals, but MisSa will show you how. She will guide you through the process of presenting a powerful appearance a solid appearance that's true to you, while letting the joy of performing shine though your choreography.
Date: 15.2.20
Time: 13.45 – 15.45
Price: 55€
Language: German/English
Level: Open
Bring: Pen, Paper, Water, & wear something comfortable.
************************************
Mail shimmyshakeberlin@gmail.com to register to any classes!
**limited places**
Shimmy Shake School
Location: Imago Tanzstudio
Address: Straßmannstraße 18, 10249 Berlin-Friedrichshain
Anmeldung oder Rückfragen bitte per Mail an shimmyshakeberlin@gmail.com schreiben.
The Shimmy Shake Berlin Burlesque School
http://www.shimmyshakeberlin.com/

**Fifi Fantome's Aerial Hoop and Burlesque class**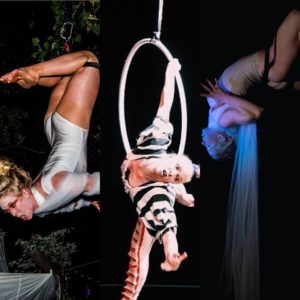 Learn the basics of aerial hoop including how to spin, different positions (from strong to flexible) on the hoop as well as how to incorporate strip tease into aerials. The class will take you through an intense warm-up and psychical preparation to make you strong and lift your body high in the air. We will also work thorough ways to stretch and warm-up your body.
Day: Private or small group booking on weeknights.
Weekend workshops possible upon request.
Time: After 18.00 – Length: 90 Minutes
Class Limit: 3 students
Price: 65€ per private class. Extra fee incurred for weekend studio hire.
50€ per person for groups of 2-3.
Card: 20% off for booking 3 sessions or more.
Language: English
Level: Beginner-Intermediate
Bring: Comfortable dance-wear/exercise-wear (leggings are recommend), and a bottle of water.
Mail shimmyshakeberlin@gmail.com to register!
**Limited places**