The Shimmy Shake Berlin Burlesque School hosts a wide variety of exciting burlesque workshops. Each class is focused on a different style or skill, to cover all facets of burlesque performance. After each term students have the opportunity to perform the choreography they learned at our graduation event, the Shimmy Shake Show. Whether you are interested in classic Bump and Grind, Costuming, Neo, Characterization, Movement, Striptease or Styling, with our ever-changing roster and exciting list of guest teachers we have something for everyone. The teachers of the school are also able to offer special private classes for those wanting to hone existing skills or that prefer to start learning in a private environment.
Mail shimmyshakeberlin@gmail.com for any additional information.

Shimmy Shake Special Workshops

ONLINE WORKSHOPS
We have a special sexy treat to romance you with this Valentines Day!
Being at home in Lockdown (many alone) we're offering these special workshops to help you reconnect with yourselves and your hotness on this day of love!
Whether alone or partnered these workshops are aimed to help you spice things up!
There is a discount for both workshops with a 15 minute break in between and they compliment each other well!
But can also be taking separately.
Saturday February 13th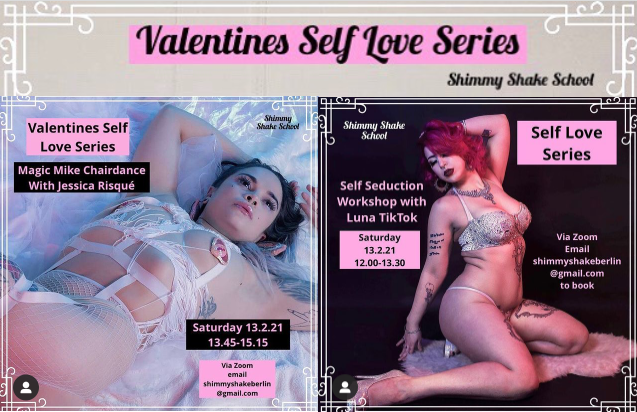 **SELF SEDUCTION with Luna TikTok**

Feeling out of Sync rather than feelin' yourself?  Join Luna for a slow burning dance session to rekindle / unleash that feisty flirty fire within! Let's explore reconnecting with our bodies through touch, movement and beyond  on this beautiful road towards Self Love and Confidence!
Low Impact Movement for all Levels.
Suitable for all Genders.
What to Bring: Yoga Mat/Towel – Water Bottle – Mirror (the bigger the better)
For those with mobility issues I would advise using a comfy chair.
What to Wear: Your Favourite Fitted Sexy Wear! Lingerie, undies, Onesies, Leggings, Sportswear etc  are all welcome. The less baggy the better!
Time: 12.00-13.30
Price: 25€
Language: English
Level: Open
Email shimmyshakeberlin@gmail.com to book in now!
** Magic Mike the Fuk Boi Workshop with Jessica Risque**
Ever wondered where all these fuk boi's get the confidence to grind the floor and never call you back?! Now its your turn to take back this energy and show them how the crotch dive is really done! Pull these moves out on your next post covid prey and you will have anyone gagging for more.
Don your best Masc Str$pper outfit (think tank tops and slicked back hair, joggers and caps, drawn on 6 pack if you are feeling), Knee Pads, Socks!! THE STURDIEST CHAIR.
We will learn the baby maker, floor humps, knee spins, grinds, & then we will put into a full chair dance routine to turn you into the biggest Fuk Boi even just for five mins.
Time: 13.45-15.15
Price: 25€
Language: English
Level: Open
Email shimmyshakeberlin@gmail.com to book in now!
************************************
_________________________________
~Double Deal~
~SINGLE WORKSHOP~
______________________________________________________________________
Mail shimmyshakeberlin@gmail.com to register to any classes!
Location: Imago Tanzstudio
Address: Straßmannstraße 18, 10249 Berlin-Friedrichshain