Die "Shimmy Shake Berlin Burlesque School" bietet eine breite Auswahl aufregender Workshops. Jeder Workshop hat den Schwerpunkt auf einem anderen Stil, oder einer anderen Fertigkeit, um alle Facetten der burlesque Kunst abzudecken.
Ob du Interesse hast an klassischem Bump und Grind, Kostümierung, Neo Burlesque, Charakterentwicklung, Bewegungstechniken, Striptease oder Styling, mit unserem wechselnden Team und Gastlehrer ist für alle etwas dabei!
Unsere Team bietet auch Privatunterricht für alle, die bereits bestehende Fertigkeiten verfeinern wollen, oder die eine privaten Umgebung für die ersten Schritte bevorzugen.
Bei Rückfragen schickt eine Mail an shimmyshakeberlin@gmail.com 
*Unsere Kurse sind für alle Fitness-Levels und Erfahrungen geeignet.

Shimmy Shake Special Guests Workshops
MÄRZ 2018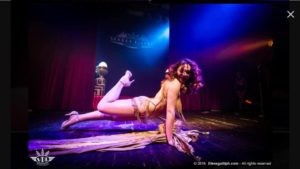 SONTAG 11. MÄRZ
**Shake the Power with Albadoro Gala**
15.00-17.00pm
A one-off special guest workshop with Roman burlesque POWERHOUSE Albadoro Gala! Albadoro produces the Caput Mundi Burlesque festival and is an international burlesque superstar. Do not miss this rare chance in Berlin to learn from her!
This burlesque workshop by Albadoro Gala includes:
-the power of the body (shimmy, shake, bump and grind, look at my leg, floor work, tassel twirling).
This workshop lasting two hours is aimed at students who have already acquired a basic knowledge of burlesque and who want to increase their knowledge about the movements and the key techniques of burlesque.
What to bring(ONLY IF YOU HAVE IT ALREADY):
-a pair of leggings and a t-shirt or body (no corsets or bustiers)
-bra with fringe and tassells
-a pair of shoes with a heel strap
-a short skirt for belly dancing or fringed shimmy belt.
First time students: 50 Euros – Existing student or with a friend: 40 Euros
**BYO Drinks and snacks.**
**Limited places**
** Albadoro is also available for private sessions, email shimmyshakeberlin@gmail.com for more information! **
Level: Open
Mail shimmyshakeberlin@gmail.com to register
FB event: click here
**limited places*