The Shimmy Shake – Berlin Burlesque School hosts a wide variety of exciting burlesque workshops. Each workshop is focused on a different style or skill, to cover all facets of burlesque performance.
 Whether you are interested in classic Bump and Grind, Costuming, Neo, Characterisation, Movement, Striptease or Styling, with our ever-changing roaster and exciting list of guest teachers we have something for everyone.
 The teachers of the academy are also able to offer special private classes for those wanting to hone existing skills or that prefer to start learning in a private environment.
 Mail shimmyshakeberlin@gmail.com  for any inquiries.
 *Our workshops are suited to all levels of fitness and experience.

Shimmy Shake Special Guest Workshops
MARCH 2018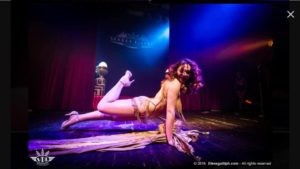 SUNDAY MARCH 11th
**Shake the Power with Albadoro Gala**
Time: 15.00-17.00pm
A one-off special guest workshop with Roman burlesque POWERHOUSE Albadoro Gala! Albadoro produces the Caput Mundi Burlesque festival and is an international burlesque superstar. Do not miss this rare chance in Berlin to learn from her!
This burlesque workshop by Albadoro Gala includes:
-the power of the body (shimmy, shake, bump and grind, look at my leg, floor work, tassel twirling).
This workshop lasting two hours is aimed at students who have already acquired a basic knowledge of burlesque and who want to increase their knowledge about the movements and the key techniques of burlesque.
What to bring(ONLY IF YOU HAVE IT ALREADY):
-a pair of leggings and a t-shirt or body (no corsets or bustiers)
-bra with fringe and tassells
-a pair of shoes with a heel strap
-a short skirt for belly dancing or fringed shimmy belt.
First time students: 50 Euros Existing student or with a friend: 40 Euros
**BYO Drinks and snacks.**
**Limited places**
** Albadoro is also available for private sessions, email shimmyshakeberlin@gmail.com for more information! **
Level: Open
Mail shimmyshakeberlin@gmail.com to register
FB event: click here
**limited places*